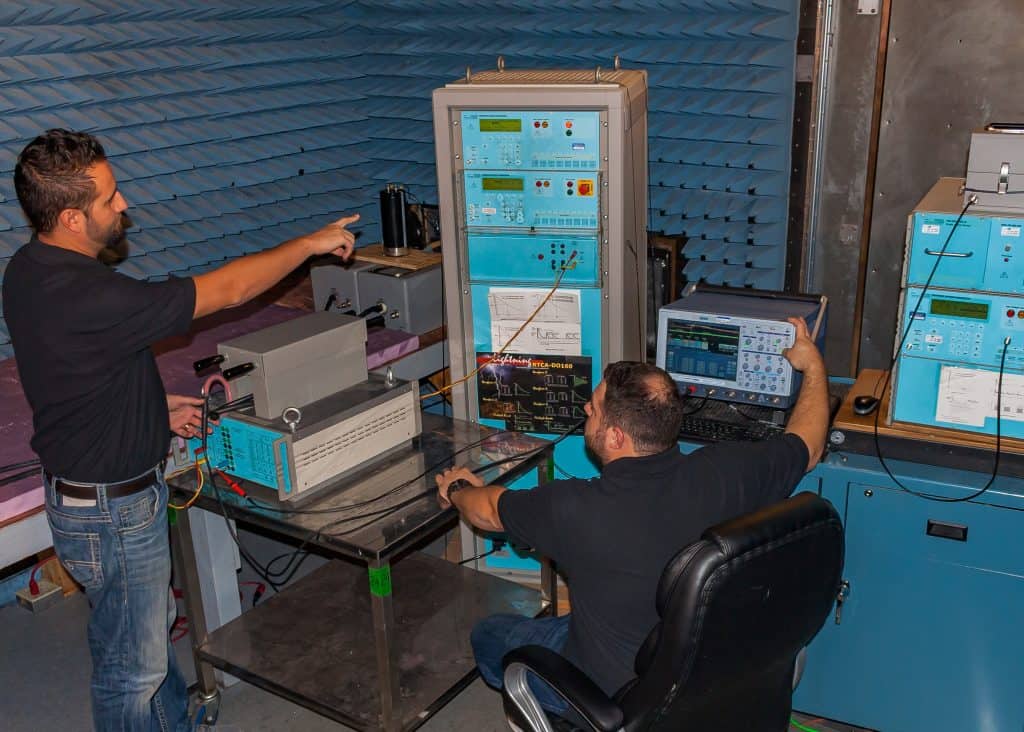 RTCA DO-160 defines a series of minimum test conditions (categories) and applicable test procedures for commercial airborne equipment.
D.L.S. offers compliance testing on Aviation and Avionics platform applications for EMI/EMC, Environmental, Power Quality, and other applicable testing services. The list of accredited standards includes RTCA DO-160 for Electromagnetic Compatibility, Lightning, HIRF and Environmental requirements.
The purpose of RTCA DO-160 tests is to provide a laboratory means of determining the performance characteristics of airborne equipment for Environmental & Electromagnetic Compatibility conditions, representative of those which may be encountered in airborne operation of equipment.
Some of the conditions and test procedures contained in RTCA DO-160 may be used in conjunction with applicable equipment performance standards as a minimum specification under the various conditions.
Some of the test procedures are not necessarily applicable to all airborne equipment. The selection of the appropriate test procedures is the responsibility of the writers of the performance standards for their specific equipment. These testing requirements are specific to electrical, electronic, electromechanical equipment, materials, and sub systems for exterior, surface, and interior aircraft applications, along with related support equipment.
 D.L.S. has experience with RTCA DO-160 testing requirements on communications equipment, lighting, passenger entertainment, cockpit equipment and displays, aircraft control and safety equipment, electric power inputs, equipment racks, waste systems, galley equipment, seating systems, aviation related materials and sub components.
D.L.S. offers specially equipped larger testing chambers to support complex systems and equipment, and can provide support equipment such as shielded load rooms, self-contained ethelyne glycol and cooling fluids, air conditioning to support unique temperature extremes, ability to control vehicle and related engine exhaust.
RTCA DO-160 testing is supported by the D.L.S. technical team, including one of the largest iNARTE certified engineering staffs in the industry, experienced in all aspects of testing support, mitigation, troubleshooting, as well as test plan and procedure preparation. D.L.S. supports STC and other replacement product requirements as well.
We perform testing to requirements of:
RTCA DO-160C
RTCA DO-160D
RTCA DO-160E
RTCA DO-160F
RTCA DO-160G
Section 15.0 – Magnetic Effect
Section 16.0 – Power Input
Section 17.0 – Voltage Spike
Section 18.0 – Audio Frequency Conducted Susceptibility – Power Inputs
Section 19.0 – Induced Signal Susceptibility
Section 20.0 – Radio Frequency Susceptibility (Radiated and Conducted)
Section 21.0 – Emission of Radio Frequency Energy
Section 22.0 – Lightning Induced Transient Susceptibility
Section 23.0 – Lightning Direct Effects
Section 25.0 – Electrostatic Discharge (ESD)